Bone broth can help improve your sleep and digestion, reduce cellulite, boost your immune system, aid your metabolism, build and maintain muscle mass, build stronger bones and joints, reduce inflammation, and is excellent for skin, hair and nails.
While you can buy broth at the store, it can be very expensive. For just pennies, and very little effort, you can make your own "liquid gold." This recipe can be made on the stove top or in an Instant Pot or crockpot. Enjoy a cup in the evening before bed – it's warm, soothing, and helps heal your body from the inside out!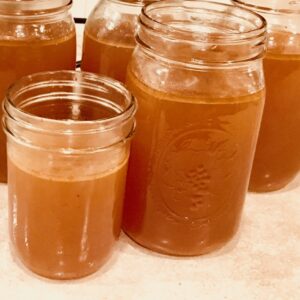 Simple Bone Broth
Equipment
pressure cooker, Instant Pot or stock pot
Ingredients
2-3

lb

grass-fed/finished knuckle & marrow bones

2

TBSP

apple cider vinegar

2

garlic cloves

sliced in half

2

large

carrots

peeled and roughly chopped

1

large

onion

quartered

1

TBSP

sea salt

pepper to taste

filtered water to cover all bones and vegetables

any herbs to your liking for extra flavor
Instructions
Roast bones for 20 minutes.

Place all ingredients in stock pot or crock pot and simmer for 12 – 24 hours. If you're using a pressure cooker, like an Instant Pot cook for 4 – 6 hours. The longer you cook the broth the more nutritious your broth will be. I like to cook my broth until all the marrow has been disolved from the bones.

Fill mason jars 3/4 full. Store in fridge up to a week or the freezer for 6 months to a year.
Notes
I usually keep one jar in my fridge at all times and I freeze the rest. Wait until the broth has cooled before placing in the freezer, otherwise the jar may break.